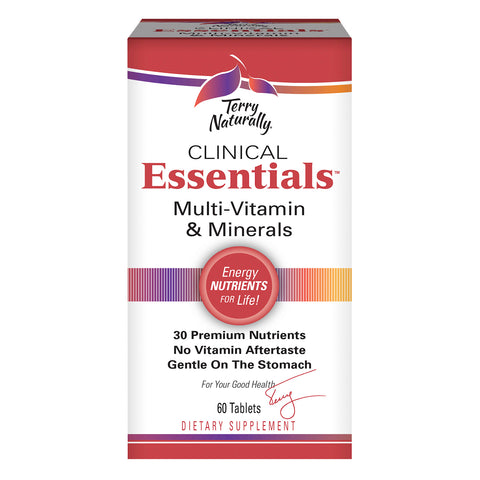 Clinical Essentials™ Multi-Vitamin & Minerals
Clinical Essentials™ Multi-Vitamin & Minerals by Terry Naturally contains more effective forms—at effective dosage levels—of clinically validated nutrients to fill the gaps in your diet.
Premium Coating makes Clinical Essentials:
~ Easy to swallow
~ Gentle on the stomach
~ Ensures No aftertaste or "vitamin" smell
Clinical Essentials Supports:
Vibrant Energy, Mood and Stamina - Bioidentical B Vitamins in their most effective forms for optimal utilization in the body*
Immune System Strength - Proper levels of vitamins and TRAACS® chelated minerals to help support good health all year long*
Bone and Collagen Structure - Unique sources of Boron, Vitamin K2 and TRAACS® chelated calcium and magnesium for healthy bone formation*
Heart and Arteries - Provides the complete array of nutrients to support healthy heart function including bioidentical B vitamins and vitamin D3*
Antioxidant Defense - Vitamin C, A and E with selenium to reduce the risk of oxidative stress and damage*
Metabolism and Blood Sugar Balance - TRAACS® vanadium and chromium for healthy blood sugar metabolism*
Serving Size: 2 Tablets
Servings Per Container: 30
Ingredient
Amount/Serving
Daily Value
Vitamin A (as retinyl palmitate)
750 mcg RAE (2,500 IU)
83%
Vitamin C (from calcium ascorbate)
62.5 mg
69%
Vitamin D3 (as cholecalciferol)
12.5 mcg (500 IU)
63%
Vitamin E (as d-alpha and mixed tocopherols)
16.75 mg (25 IU)
112%
Vitamin K2 (as Mena Q7®

 

menaquinone-7)
22.5 mcg
19%
Riboflavin (Vitamin B2)
25 mg
1,923%
Niacin (Vitamin B3) (as niacin and from niacinamide)
25 mg
156%
Vitamin B6 (from pyridoxal-5-phosphate)
12.5 mg
735%
Folate
(from (6S)-5-methylfolate) (equivalent to 400 mcg of (6S)-5-Methyltetrahydrofolic acid, glucosamine salt)†
340 mcg DFE
85%
Vitamin B12 (as methylcobalamin)
125 mcg
5,208%
Biotin (as D-biotin)
250 mcg
833%
Pantothenic acid (from d-calcium pantothenate)
25 mg
500%
Choline (from choline bitartrate)
25 mg
5%
Calcium (from TRAACS®

 

Calcium Glycinate Chelate, calcium fructoborate, calcium ascorbate, and d-calcium pantothenate)
200 mg
15%
Iodine (from potassium iodide)
75 mcg
50%
Magnesium (TRAACS®

 

Magnesium Bisglycinate Chelate Buffered (Magnesium Bisglycinate Chelate and Magnesium Oxide))
150 mg
36%
Zinc (from TRAACS®

 

Zinc Bisglycinate Chelate)
7.5 mg
68%
Selenium (from Selenium Glycinate Complex)
50 mcg
91%
Copper (from TRAACS®

 

Copper Glycinate Chelate)
0.5 mg
56%
Manganese (from TRAACS®

 

Manganese Glycinate Chelate)
2.5 mg
109%
Chromium (from TRAACS®

 

Chromium Nicotinate Glycinate Chelate)
125 mcg
357%
Molybdenum (from TRAACS®

 

Molybdenum Glycinate Chelate)
62.5 mcg
139%
Potassium (from Potassium Glycinate Complex)
25 mg
1%
Ginger (Zingiber officinale) Rhizome Extract Standardized for ≥ 5% gingerols and shogaols (5 mg)
100 mg
**
Benfotiamine
25 mg
**
Inositol
25 mg
**
Bioflavonoids from Citrus (Citrus aurantium) Peel Extract
25 mg
**
PABA (para-aminobenzoic acid)
7.5 mg
**
Boron (from calcium fructoborate)
750 mcg
**
Vanadium (from TRAACS®

 

Vanadium Nicotinate Glycinate Chelate)
62.5 mcg
**

**Daily Value (DV) Not Established
† US Patent No. 7,947,662
Other Ingredients: microcrystalline cellulose, maltodextrin, hydroxypropyl cellulose, citric acid, croscarmellose sodium, silica, starch, stearic acid, glycerol monostearate, hydroxypropyl methylcellulose, dicalcium phosphate, magnesium stearate, glycine.
No: sugar, salt, yeast, wheat, gluten, soy, dairy products, artificial coloring, artificial flavoring, or artificial preservatives. Color variations are normal.
Terry Naturally brand products contain natural and other premium ingredients.
Recommendations:2 tablets daily for every day use. May increase to 2 tablets twice daily for maximum health benefits. Take with meals.
If pregnant or nursing, consult a healthcare practitioner before use.
NON-GMO     
TRAACS® is a registered trademark of Albion Laboratories, Inc. 
MenaQ7® is a trademark of NattoPharma ASA, Norway
*These Statements have not been evaluated by the Food and Drug Administration. These products are not intended to diagnose, treat, cure, or prevent any disease.
---
We Also Recommend
---